&nbsp
Valve Corporation
is an
American
video game development
and
digital distribution
company based in
Bellevue, Washington
, United States. It was founded in 1996 by former Microsoft employees
Gabe Newell
and
Mike

Harrington
, and made famous by its highly successful and critically acclaimed first product,
Half-Life
, released in November 1998. It is also well-known for its social-distribution network
Steam
, and for developing the
Source engine
, which it has used for every product since its introduction in 2004. Valve created two successful series with sequels,
Left 4 Dead
and
Team Fortress
. Its Team Fortress series stars
Heavy
, the protagonist of
Moments with Heavy
.
Valve was founded by long-time
Microsoft
employees
Gabe Newell
and
Mike Harrington
on August 24, 1996
[2]
[3]
as an
L.L.C.
based in
Kirkland, Washington
. After incorporation in April 2003,
[4]
it moved from its original location to
Bellevue, Washington
, the same city in which their original publisher,
Sierra On-Line
, Inc., was bas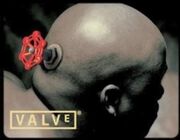 ed.
After the success of Half-Life, the team worked on mods, spin-offs, and sequels, including Half-Life 2. All current Valve games are built on its Source engine, which owes much of its success to mods and sequels. The company has developed six game series: Half-Life, Team Fortress, Portal, Counter-Strike, Left 4 Dead and Day of Defeat. Valve is noted for its support of its games' modding community: most prominently, Counter-Strike, Team Fortress, and Day of Defeat. Valve has branched out with this tradition to continue developing the Warcraft III-based mod Defense of the Ancients with Dota 2.[5] Each of these games began as a third-party mod that Valve purchased and developed into a full game. They also distribute community mods on Steam.
Since Valve Corporation's debut, it has expanded both in scope and commercial value. On January 10, 2008, Valve Corporation announced the acquisition of Turtle Rock Studios.[6] On April 8, 2010, Valve won The Escapist Magazine's March Mayhem tournament for the best developer of 2010.[7] They beat Bioware in the finale and Zynga in the semi-final.
Main article: List of games developed by Valve
| Title | Year | Genre | Platform |
| --- | --- | --- | --- |
| Half-Life | 1998 | First-person shooter | PC, PlayStation 2 |
| Team Fortress Classic | 1999 | First-person shooter | PC |
| Half-Life: Opposing Force | 1999 | Expansion pack | PC |
| Deathmatch Classic | 2000 | First-person shooter | PC |
| Ricochet | 2000 | Action game | PC |
| Counter-Strike | 2000 | First-person shooter | PC, Xbox |
| Half-Life: Blue Shift | 2001 | Expansion pack | PC |
| Day of Defeat | 2003 | First-person shooter | PC |
| Counter-Strike: Condition Zero | 2004 | First-person shooter | PC, Xbox |
| Counter-Strike: Source | 2004 | First-person shooter | PC, Mac |
| Half-Life 2 | 2004 | First-person shooter | PC, Xbox, Xbox 360, PlayStation 3, Mac |
| Half-Life 2: Deathmatch | 2004 | First-person shooter | PC, Mac |
| Half-Life Deathmatch: Source | 2005 | First-person shooter | PC |
| Day of Defeat: Source | 2005 | First-person shooter | PC, Mac |
| Half-Life 2: Lost Coast | 2005 | Expansion pack | PC, Mac |
| Half-Life 2: Episode One | 2006 | Expansion pack | PC, Xbox 360, PlayStation 3, Mac |
| Half-Life 2: Episode Two | 2007 | Expansion pack | PC, Xbox 360, PlayStation 3, Mac |
| Portal | 2007 | Puzzle game | PC, Xbox 360, PlayStation 3, Mac |
| Team Fortress 2 | 2007 | First-person shooter | PC, Xbox 360, PlayStation 3, Mac |
| Left 4 Dead | 2008 | First-person shooter | PC, Xbox 360, Mac |
| Left 4 Dead 2 | 2009 | First-person shooter | PC, Xbox 360, Mac |
| Alien Swarm | 2010 | Top-down shooter | PC |
| Portal 2 | 2011 | Puzzle game | PC, Xbox 360, PlayStation 3, Mac |
| Dota 2 | 2012 | Action RTS | PC, Mac |
| Counter-Strike: Global Offensive | 2012 | First-person shooter | PC, Xbox 360, PlayStation 3, Mac |