Crit-Sandvich

Species

Known for

Holding mighty power in appearance and combat

Color

Blue chrome

Debut

Consumers

Victims
The
Crit-Sandvich
is a type of
Sandvich
that may have debuted in the
Team Fortress
series, but in the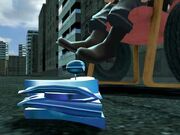 series, it debuted in the sixth episode,
The Quest for the Ultimate Sandvich
. It is known for being a shining blue-chrome color, and holding mighty power in both appearance (whoever eats it becomes blue-chrome as well) and combat.
Known eater(s)
Edit
The only known eater of the mighty Crit-Sandvich is
Blue Heavy
.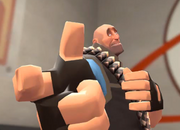 Known victim(s)
Edit
There are only 2 known victims of the sandvich's power. Red Heavy and Spy were attacked under its power, both with the method of the three-hitting punch, only Spy had a worse income, as he was punched into an abyss. The reason Blue Heavy himself is a victim alongside an eater is that he suffered the explosion because the same spy who died had rigged the Crit-Sandvich with C4 that was likely rigged to explode when eaten.
Known owner(s)
Edit
The only known owner of the Crit-Sandvich is the Spy, the one who placed the mighty sandvich in the box in the first place. Scout also had the Crit-Sandvich until his front bike wheel wonked out and he fell into a pond, releasing the Crit-Sandvich from his grasp. Soldier also kept the sandvich in a cage for a long time.